Coronavirus (COVID-19) Resources
Dr. Sandy is providing this webpage to update you regularly about new scientific discoveries as well as integrative perspectives on the coronavirus.
This information is not meant to replace the important public health measures of handwashing, physical distancing, and seeking testing and medical care should you experience coronavirus symptoms (fever, headache, sore or dry throat, anosmia, shortness of breath, lung congestion). Instead, this information is meant for those who are prepared to take additional steps which have been shown by peer review science to enhance our immune responses to virus infection.
Coronavirus COVID-19: Global update
The Johns Hopkins Center for Systems Science and Engineering has built and is regularly updating an online map tracking the global spread of the coronavirus (COVID-19) outbreak which began in the Chinese city of Wuhan. The map is updated with data from the WHO, CDC, and other sources.
To keep track of the latest figures click the following link.  Go to map>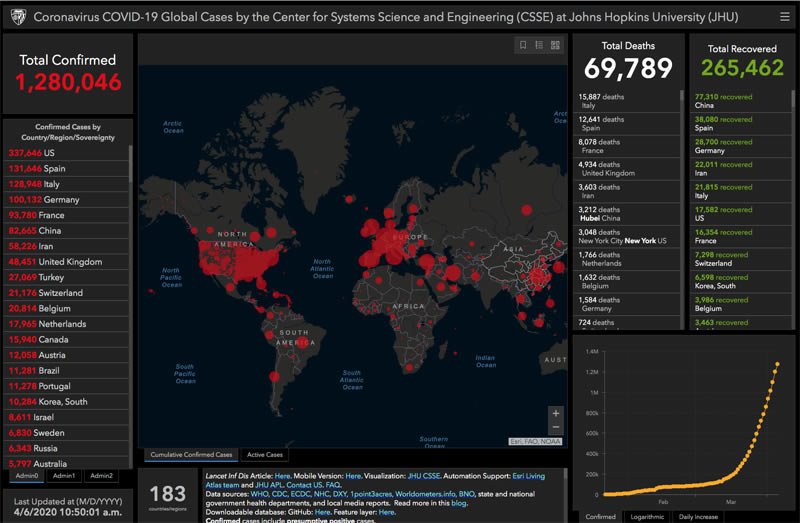 Johns Hopkins coronavirus tracking map
COVID-19: How to Significantly Slow Coronavirus?
#masks4all featuring Minister of Health of the Czech Republic.
April 4, 2020
Couch Choir – (They Long To Be) Close To You
Over 1000 people from 18 countries submitted a video of their performance of "Close To You" (The Carpenters) in just TWO DAYS.
Courtesy of Pub Choir
COVID-19: Virology, Immunology and Pathology
For those of you who are interested in hard science listen to Clifford Lowell MD PhD as he reviews the latest research and information about COVID-19 at our latest ImmunoX Journal Club (April 2, 2020)
Clifford Lowell MD PhD – UCSF Professor & Chair of the Department of Laboratory Medicine – Courtesy of ImmunoX Initiative
COVID-19: What it is and how it spreads!
What is Coronavirus and how can you stay safe and healthy? In this introductory video from Randy Horwitz, MD, PhD, Medical Director at the Andrew Weil Center for Integrative Medicine, learn all about COVID-19 and other similar viruses. This first video includes best practices to prevent and handle the virus in a more healthy and effective manner, with a focus on boosting the immune system and relieving stress.
Learn more about integrative approaches to COVID-19 from AWCIM here: https://awcim.arizona.edu/covid_19.html.
Provided by the Andrew Weil Center for Integrative Medicine at the University of Arizona.
VIRUSES! – eBook
How to stop respiratory viral infections before you get sick
Don't panic!  Dr Sandy's VIRUSES eBook (PDF format) offers easy and helpful guidance on strengthening your immune system, giving you more energy and speeding up the healing process.